"Some painters transform the sun into a yellow spot; others transform a yellow spot into the sun." ~Pablo Picasso.
Biography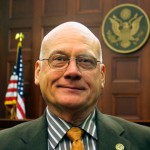 Brett L. Grayson earned his Bachelor of Arts and Juris Doctor degrees from Louisiana State University. Thereafter, Brett began his distinguished legal career as a litigator with the United States Army's Judge Advocate General's Corps, serving with the First Infantry Division at Ft Riley, Kansas, the Second Infantry Division at Camp Casey, Korea, and the Eight United States Army, Garrison Yongsan, Seoul, Korea.
After discharge from active duty with the Army, Brett returned to Baton Rouge, where he worked as an associate attorney with the firms of Airhart & Copenhaver and Guy A. Modica for a period of three years.
Brett became an Assistant District Attorney with the 19th Judicial District in East Baton Rouge and gained invaluable experience while working in several different criminal divisions within that prosecutorial office. Two years in a row he tried thirty (30) or more jury trials. He ultimately was promoted as a Section Chief and supervised the docket of a criminal division of the East Baton Rouge Parish District Court. Thereafter he was a Felony Assistant in the District Attorney's Office for 14th Judicial District in in Calcasieu Parish for a a couple of years, and tried a countless number of judge and jury trials.
Brett began his federal career as an Assistant United States Attorney in the Corpus Christi Division of the Southern District of Texas. At the time, the Corpus Christi Division had two prosecutors and one civil attorney, and was handling all the drug cases arising out of the U.S. Border Patrol checkpoints at Falfurrias and Sarita, Texas. The prosecutors were indicting 110 defendants per month. Brett prosecuted the first Continuing Criminal Enterprise case in the Corpus Christi Division, investigated by the Internal Revenue Service Criminal Investigation Division and the Narcotics Division of the Corpus Christi Police Department.
Brett's ability to speak Spanish was often invaluable because the large number of illegal aliens being prosecuted and the Hispanic citizens in south Texas who served as jurors and witnesses.
But, Brett's legal career has not been limited to criminal law. Brett additionally acquired considerable civil litigation experience while working at Airhart & Copenhaver, where he represented small and large businesses in commercial, employment and personal injury disputes.
Since starting his prosecutorial career, Brett has represented the government in criminal matters across Louisiana, and his outstanding work has been recognized by the Morning Advocate newspaper, by the Louisiana Narcotics Agents Association as 2005 Narcotics Prosecutor of the year, and by a "Gold Record" awarded by the Recording Industry Association of America (RIAA) for his music piracy prosecutions.
Brett is presently admitted to practice in all state and federal courts in Louisiana. While criminal defense comprises most of his practice, Brett's current practice areas additionally include general civil litigation and personal injury (plaintiff).